21 Jan
Our History
This is the saying that Dr. Timothy Ngwira, an analytical biochemist lives by. He turned a wine making hobby into a recognized successful business. Starting in 1978, Dr. Ngwira would make wine to serve his guests at dinners and parties. The product then grew in popularity and receiving a lot of demand from colleagues and friends.
However, production ceased in the 1990s when Dr. Ngwira moved to Namibia to take up the position of the first head of Food Science and Technology Department at the University of Namibia where he taught Fermentation Technology. This included wine making. Upon his return to Malawi, he still persued his hobby and in 2006, he and his wife Margaret Ngwira registered Linga Fine Foods & Winery as a business entity. Dr. and Mrs Ngwira are now the proud owners of Linga wines, Malawi's own home to premium wines.

With an interest for exporting their products, the owners of the winery are now seeking certification for ISO 22000, the international standards for food safety management.
ISO International Standards help businesses of any size and sector reduce costs, increase productivity and quality, and access new markets. For small to medium sized enterprises (SMEs), standards can help to: build customer confidence that products are safe and reliable; reduce costs across all aspects of your business; and gain market access across the world
Dr. Ngwira initially received preliminary training on the standard. This included basic requirements for companies to operate in environments that are compliant with minimum standards and got acquainted with planning for, operating and maintaining a food safetymanagement system that consistently provides productsthat are safe for consumption. The facilities werethen selected by Malawi Bureau of Standards (MBS)for Technical Assistance to be delivered by International Experts under the "Development of a robust Standardization, Quality Assurance, Accreditation and Metrology (SQAM) Infrastructure" Project.

To improve the winery, Dr. and Mrs. Ngwira have made changes such as having meshed windows to prevent insects from getting in; having lab coats with zips instead of buttons because buttons often fall off and may contaminate the wine; they have introduced specific hygienic chemicals instead of "household chemicals" for the cleaning of hands, equipment and the working environment. They also proactively engaged their suppliers to initiate food safety activities from fruit farming, to the processes required to ensure a safe end product. The facility now has preventative maintenance programmes in place, effective product testing equipment as well as traceability data for the manufacturing of the product.
By September 2017 the company hopes to have implemented the standards requirements checklists and be certified by December.

Standards make market access easier, in particular for SMEs. They can enhance brand recognition and give customers the guarantee that the products are tested, reliable; and the purchased product is of high quality.
After such improvements, the winery has already received several orders from major outlets in Malawi and the neighbouring countries including Zambia.
"Our main market is Malawi but we are now exporting to the UK. Malawians who are living there are buying from us," said Dr. Ngwira. "We now have an online store and we have received orders mainly from Europe and the United States of America."

The winery is clearly penetrating new markets that have more stringent requirements and after full certification the ambition is to market the product even more aggressively for increased market shares. The winery boasts 8 different types of wines, all made from local fruits from different parts of the warm heart of Africa.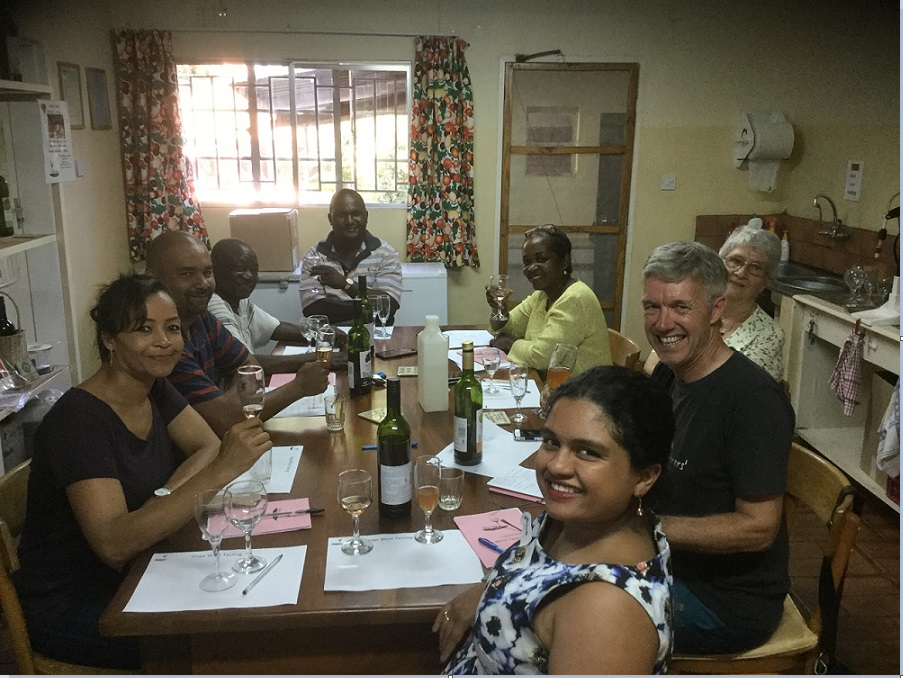 Winery Tours and Wine Tasting

A Winery tour for at least two people lasts about one and a half hours. The processes of wine making are explained and several different wines are sampled. Booking is essential. Cost is MK5000 per person.
Wine tasting sessions are arranged on demand and form a popular part of Lilongwe social events . Linga Wine tasting is a very happy event and gets more cheerful as the wine flows. Groups of up to 12 are welcome to visit Linga Winery by arrangement – pre booking is essential. .Customised handouts are prepared After a welcome Linga Spritzer, the Programme consists of introductions and networking over Malawi coffee, tea and home baking, then an explanation to the background of the winery and the processes and viewing some brief Linga videos. . Thereafter there is a visit to the wine production and processing areas. Here, visitors sit at the big table, sample perhaps 4 wines – See Swirl Sniff Sip Slurp Swallow and evaluate the wines according to several parameters using both their own preferences and guidelines given in the material handed out.
This is followed by is a tour of the winery garden and the fruit –producing trees, Guests may see some of the winery fauna – perhaps a Mongoose or Turacos and certainly the doves fluttering down to the birdbath - peace. The visit, which lasts about two and a half hours ends with guests enjoying a wide range of wines. There may be a Wine Quizz with a prize bottle for the entry with the most correct answers! There is then the opportunity to purchase Linga of your choice at wholesale prices,. The cost is MK10,000 with a minimum of 6 people. The winery is located in a tranquil scenic area in Area 3, Lilongwe, close to Lilongwe River. Anyone wishing to participate in wine tasting should contact us using the form below.